– ''Simply making a record is also not interesting in any case, because it has to include the emotional scale.'' Salmirinne commented under the band's eighth album release.
The band's latest album IX was released on September 9, 2009. The occasional gigs still continue, even though there has been a couple of years of silence in between. When talking about gigs, we can't fail to mention that Zero Nine toured the Nordics in 1996 as AC/DC's warm-up band.
When Zero Nine won the Levyraati in 1980, the band had broken up with the departure of Veli-Sakari "Sika" Kukkonen. The membership quickly reorganized after the victory, and there have been no changes since then.
A lot has happened to the band that has been play a long time. While waving his hair, Salmirinne has managed to get Drumsticks up his nose. The stage structures have sometimes failed the singer, and AC/DC's singer has gone unrecognized.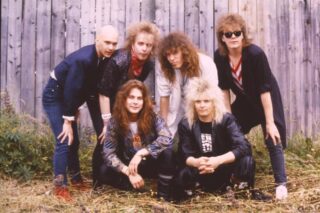 Photo texts:
Homanen Groupin Ensio Karjalainen ja Pekka Homanen on stage autumn 1981.
Zero Nine at their best in the beginning of 1980's
Zero Nine composition
Martti "Mara" Mäntyniemi – guitar
Jari "Jarski" Jaakkola – bass
Matti "Iro" Murtola – keyboards
Timo "Iso-T" Käsmä – guitar
Mikko "Dexta" Korpela – drums
Keijo "Kepa" Salmirinne – vocals
Esa "Elmo" Harju – bass until the 2000s
Brother Sakari "Sika" Kukkonen – drums 1978-80
Albums
Visions, Scenes and Dreams (1982)
Blank Verse (1982)
Headlines (1984)
White Lines (1985)
Intrigue (1986)
Voodoo You (1988)
Freakshow (1996)
N.E. Files (2004)
IX (2009)