In September 1944, the bells of the Kuusamo church were lowered down from the bell tower with ropes. Colonel Franz Schreiber of the retreating SS Mountain Jaeger Regiment had given an order to hide the church bells into the ground. He feared that the Soviet troops would occupy Kuusamo, and the valuable bells would end up on the other side of the eastern border. It was the eve of the Lapland War.
The two Kuusamo church bells, the so-called King's Bell and Priest's Bell, were lowered into an empty grave, and soldiers disguised the mound as an ordinary grave.
Schreiber returned to Kuusamo fifteen years later to tell the story about the burying of the bells. The bells were searched in a major operation by a large crowd first from the north side of the church, where graves of German soldiers had been.
Finally on 20 July 1959, more than a week from the start of the search, gravedigger Niilo Kurvinen's iron rod hit something on the front side of the church, near the street. A minesweeper confirmed the discovery as a large metal object, and eventually it turned out that, in places, there had been only 15 cm of soil covering the bells. The discovery of the bells was regarded as a miracle.
The King's Bell and the Priest's Bell still ring in the bell tower of Kuusamo Holy Cross Church.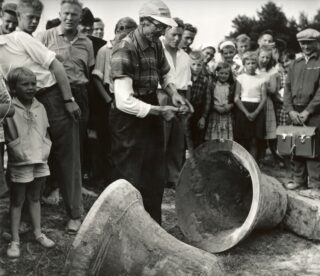 KÄÄNNÖS TULOSSA JONNALTA
"The sound is still there," says verger Ilkka Palosaari after knocking the bell with a clapper. In the background Anu Salmenkorva, Kimmo Siikaluoma, Arvi Makkonen, Matti Hööpakka, Hanna Hartikainen, Kaarina Poukkula and Lahja Raunio.
PHOTO Wesa Rinne Photo Archive