After Zero Nine, fame was achieved by A.R.G. aka ​​Ancient Rotten Graveguards: A trash metal band founded in Kuusamo in 1985. The band's albums say "Porometalli" (reindeer metal) in reference to their home in the North, although the band's genre is clearly thrash metal. A.R.G. is undoubtedly one of the pioneers of the Finnish thrash metal genre.
When A.R.G played their first gigs in 1988, the pitting of the south against the north was fierce. A.R.G. had just won the Northern Finland band competition, thanks to that they were able to record the Aggressive Confessor single and rushed to Stone-bands territory in Helsinki.
– The audience shouted for the reindeer to get on stage. Back then it was very necessary to label everything. ''We decided that we are reindeer metal then. It stayed in life for some reason,'' guitarist Jari Kelloniemi, who founded the band with drummer Pasi Takkula, has told afterwards. The composition was stabilized a couple of years later, when bass singer Tepa Karjalainen and guitarist Vesa Säkkinen joined the band.
A.R.G. released their first album Entrance in 1989. The album made the band famous all over Finland, and A.R.G. got to do tours around the country and perform at big festivals. The band recorded yet another album, One World Without the End (1991).
The rise of metal music and its subgenres began to decline after the beginning of the 1990s, as grunge and alternative music became more mainstream, and the popularity and activities of A.R.G. also began to wane. After a few crew changes and demos, the band's activities waned and ended in the mid-1990s. In the spring of 2011, A.R.G. was reassembled. In 2015, the third album Redemption from Refaim was released. In 1991, the band received the Kuusamo municipality's cultural award.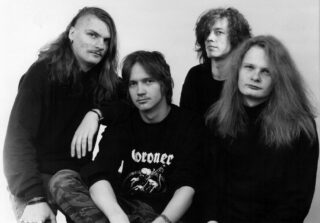 Photo texts:
A.R.G. 1992. Lithendahls studio, official promotion picture. From left Vesa Säkkinen, Tapani Kokko, Tepa Karjalainen ja Jari Kelloniemi.
A.R.G composition
Tenho "Tepa" Kareen – vocals, bass
Vesa Säkkinen – guitar
Jari Kelloniemi – guitar
Timo Hanhijoki – drums (2011–)
Former members
Aku Raaska – song (1987)
Pasi Takkula – drums (1987–1991)
Tapani Kokko – drums (1991–1994)
Jarkko Poussu – bass (1993–1994)
Albums and EPs
Back to Life (1990)
Entrance (1989)
One World Without the End (1991)
Redemption from Refaim (2015)